QED Hydrocarbon Analyser from QROS
The QED is not a screening tool but an extremely powerful forensic analyser, which can do what no single laboratory analyser can do. Below are typical results achieved by the QED showing results in parts per million with identification of the hydrocarbon and its carbon banding from light to heavy.

Only the QED can do all this:
Identifies the type of petroleum hydrocarbon in the sample. In fact the QED can identify up to three different hydrocarbons in one sample in a single 2 second analysis.
Gives you the hydrocarbon concentration.
Provides accurate results for Coal Tar, total BTEX, GRO, DRO, TPH, sum 16 PAH and BaP in one 2 second test.
<1 mg/kg detection limits in soil and 0.05 mg/L in water for most petroleum fuels and oils.
0.005 mg/kg detection limits in soil, 0.01 mg/L in water for Poly Aromatic Hydrocarbons (PAH)
0.002 mg/kg for BaP , which is more than adequate for the 0.01% limit for BaP at the 1000 mg/kg TPH lower limit for UK waste management purposes.
Natural compound identification and subtraction. The QED easily identifies and subtracts background organics, such as leaf mould or biofuels. These are incorrectly reported by GC as Total Petroleum Hydrocarbon, (TPH,) entailing unnecesssary expenditure on soil removal and remediation.
Will generate a result within 5 minutes of taking the sample – Up to 15 samples per hour throughput.
Works in soil and water.
The QED is easy to use: watch this short video, or contact us for a free demonstration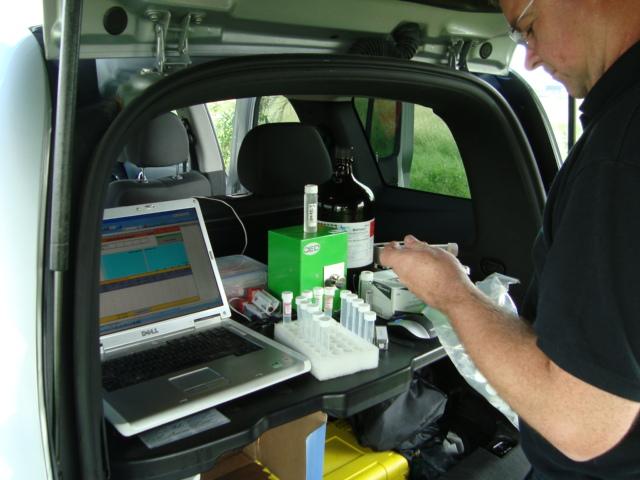 Despite its laboratory-sized analytical capabilities, the QED is very portable.
It will fit in a suitcase and can often be taken as hand luggage on aircraft. It is currently in use in a range of environments, from Mozambique to the Falkland Islands.
The QED's Artificial Intelligence interface takes you through the procedure step by step.

A 30 minute training video enables is sufficient to allow an operator to use the QED.

A two-hour training course is available for forensic analysis with the QED.

Automatic data entry check to reduce analytical errors.

Rugged, fully portable, small footprint, 12V system can be used anywhere from the back of a car to a laboratory.

Single Calibration for multiple hydrocarbon types as well as a Simple Custom calibration facility.

Automatic Quality Control checks to ensure the system is working correctly.

Low cost calibrators and consumables mean a low per sample cost.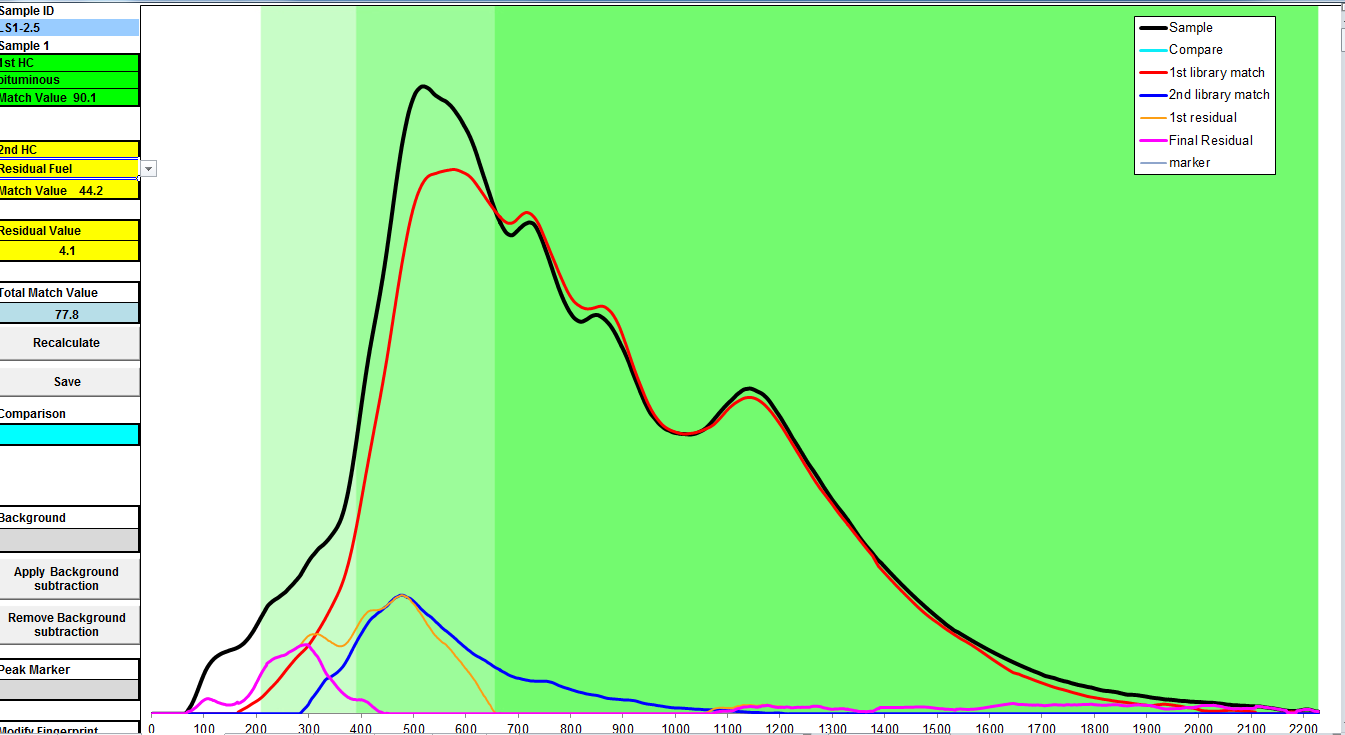 The QED automatically matches the sample to a library of hydrocarbons to produce a printable fingerprint of the hydrocarbon in the sample. Here, the red line of the sample has been selected as the closest match to the library fingerprint (black line) for bituminous. The other lines are residual hydrocarbons that can also be identified.
Sustainable, uses environmentally benign solvent.

Robust, and guaranteed for three years.

Used on Crossrail, the London Olympics site, and many sites in the UK and worldwide.

Now mandated in the USA for assessment and verification of fuel spill remediation in replacement of Gas Chromatography (Method 8015.)

Accurate, reliable and fast.

UK designed and manufactured.

Encouraged by the Environment Agency.

Used in conjunction with the XRF the QED provides the complete package for analysis of the TPH and heavy metal contamination which is present in 90% of UK brownfield sites.

Used worldwide, from Mozambique to the Falkland Islands.

Available to hire or buy. Finance is available to spread the cost over three years, subject to status.
Using the newest UVF technology, the QED Hydrocarbon analyser from QROS gives you accurate results immediately. The QED can be hired or purchased from QROS. It is easy to use and generates real time high quality data in the field at a low cost. In combination with our XRF and Chlorinated Solvents techniques the QED is the complete package for remediations on 90% of brownfield sites.