North Carolina is saving 55% on Hydrocarbon Analysis by using the QED. YOU CAN TOO!
In 2014, the North Carolina Department of Transportation conducted an eighteen month study comparing the QED (here referred to as UVF) with their currently accepted method, GC FID (known as Method 8015.) Here are their findings (read the entire report below.)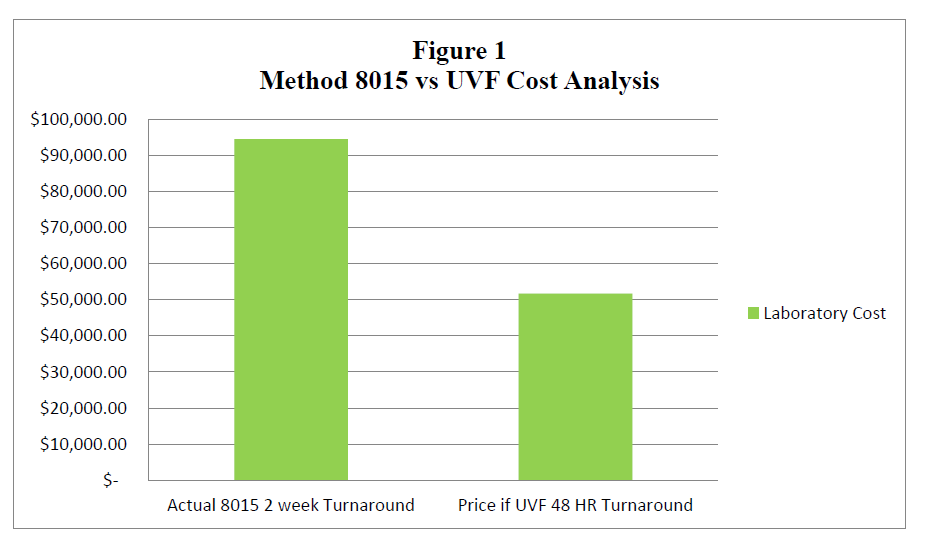 Transition to Ultra Violet Fluorescence Test
Results
" The data shows the potential for significant cost saving by using the UVF test method for detecting petroleum contaminated soil. The baseline data provided by the Department's chemical lab indicated we paid our contract laboratories to analyze 2,293 samples over an eighteen month period at a cost of $94,543 or $41.16 per sample. The chemical lab compared that cost to our standard rate for UVF analysis with a forty – eight hour turnaround time and determined that if we had used UVF analysis instead of Method 8015 we would have had a cost savings of 55% as shown in Figure 1. This is not a direct comparison because Method 8015 results were received within two weeks while UVF results would have been received within forty – eight hours. In order to show a more equal comparison, we evaluated what the cost would have been if Method 8015 and UVF were both run with a forty-eight hour turnaround time. "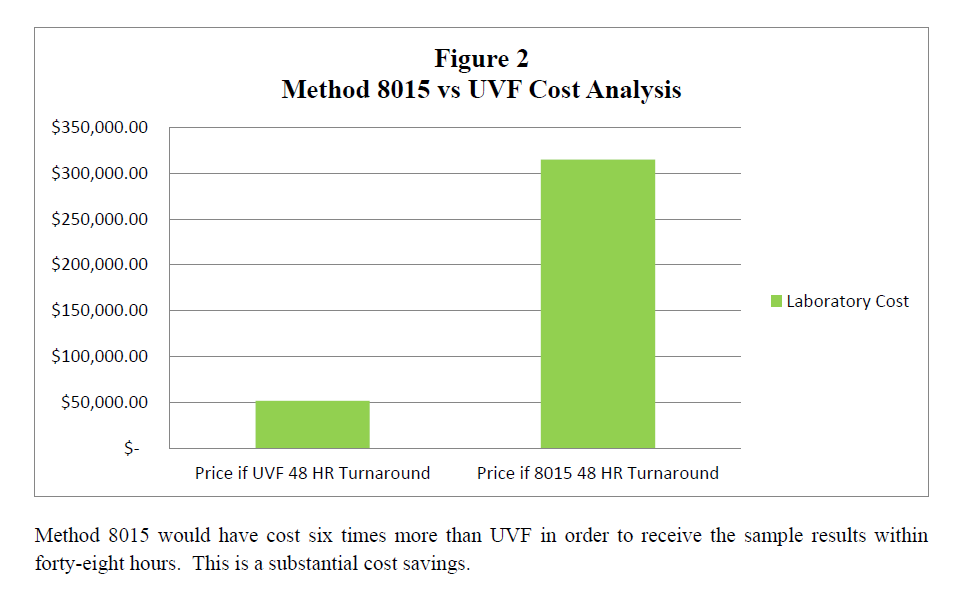 Figure 2 shows the cost comparison if Method 8015 and UVF were both received within forty-eight hours.
These results are predicated on 48 hour turnaround by a laboratory. You can achieve quicker results by using the QED yourself, with results available within 5 minutes of taking the sample, making even greater cost savings possible.
Conclusion
" The Department should implement the UVF analysis for petroleum contaminated soil based on the results of this project. The Department can expect a cost savings of nearly fifty percent and a quicker delivery for the analysis of petroleum contaminated soil. The results will be measured by reduced invoice amounts and a shorter duration between sample collection and sample results on future projects. "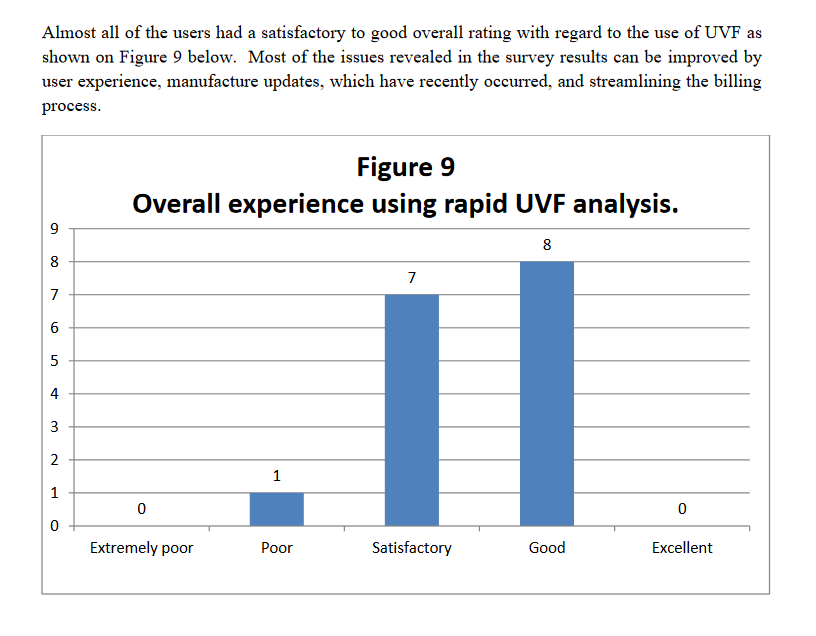 " Feedback was solicited from our engineering firms (Firms) to gauge their experience with UVF. The overall result of the feedback was a satisfactory to good overall experience using UVF. The individuals with the most experience using UVF recommended transitioning to UVF.
As a result of this study, it is recommended that the Department transition to UVF for the analysis of petroleum contaminated soil for site assessments and defining excavation limits."
QROS has been helping projects all across the UK and worldwide to go ahead faster and keep costs down since 2005
QROS QED and XRF analysers were used on the Crossrail project in London to screen 14,000 samples  of excavated soil from the tunnelling to ensure the soil met the criteria set for final disposal onto Wallasey Island. The combination of low cost rapid analysis together with accurate identification of contamination was essential for this project.
QROS analysers were used for the On Site laboratory at the 2012 Olympics site in Stratford East London. QROS had a permanent team at the Olympic Enabling project for a period of over 15 months and were instrumental in bringing in the project 3 months ahead of schedule. On-site screening was conducted for hydrocarbons, heavy metals, phenols, ammonium, cyanide, pH and chlorinated solvents on a routine basis with over 15,000 samples analysed at a rate of over 80 samples as day, with results available in 3 hours from sample receipt.
QROS has provided on-site analysis for the West Ham Flood Alleviation Scheme at Stratford, London, soil and water analysis at Beckton for the London Super sewer and is in constant use in construction and waste management projects throughout London and other major cities in the UK and globally.
The UK Ministry of Defence has taken the QED analyser to various established bases including the Falkland Islands to efficiently and effectively monitor hydrocarbon storage facilities in remote locations.
The QED Hydrocarbon Analyser is used in Malé Maldives by the Malé Water and Sewage Company  in their environmental monitoring projects. It is also in use in South Africa and Singapore, as well as
many locations in the USA and Canada.